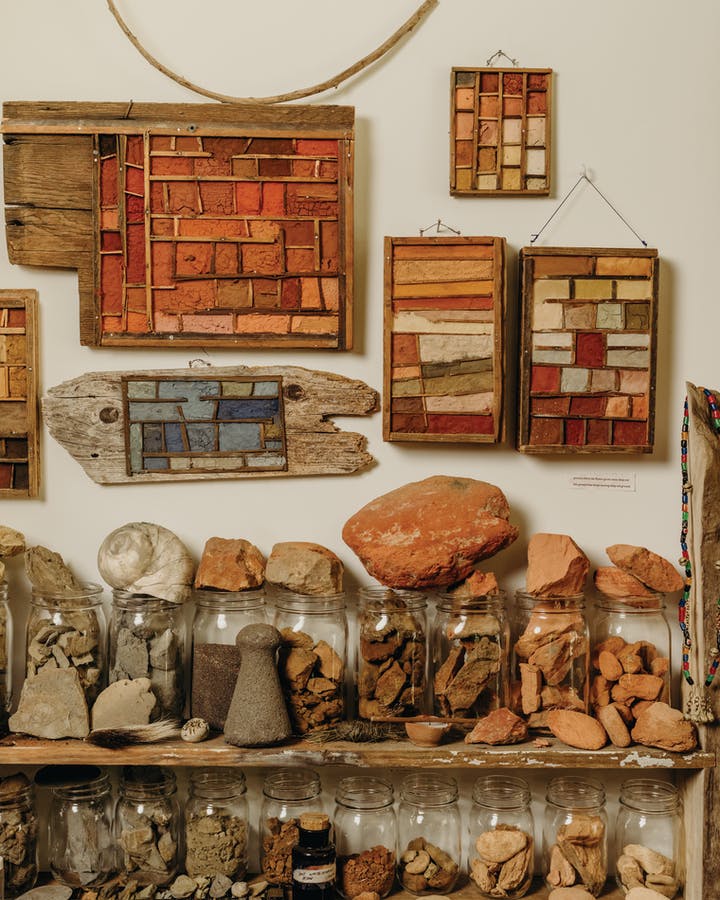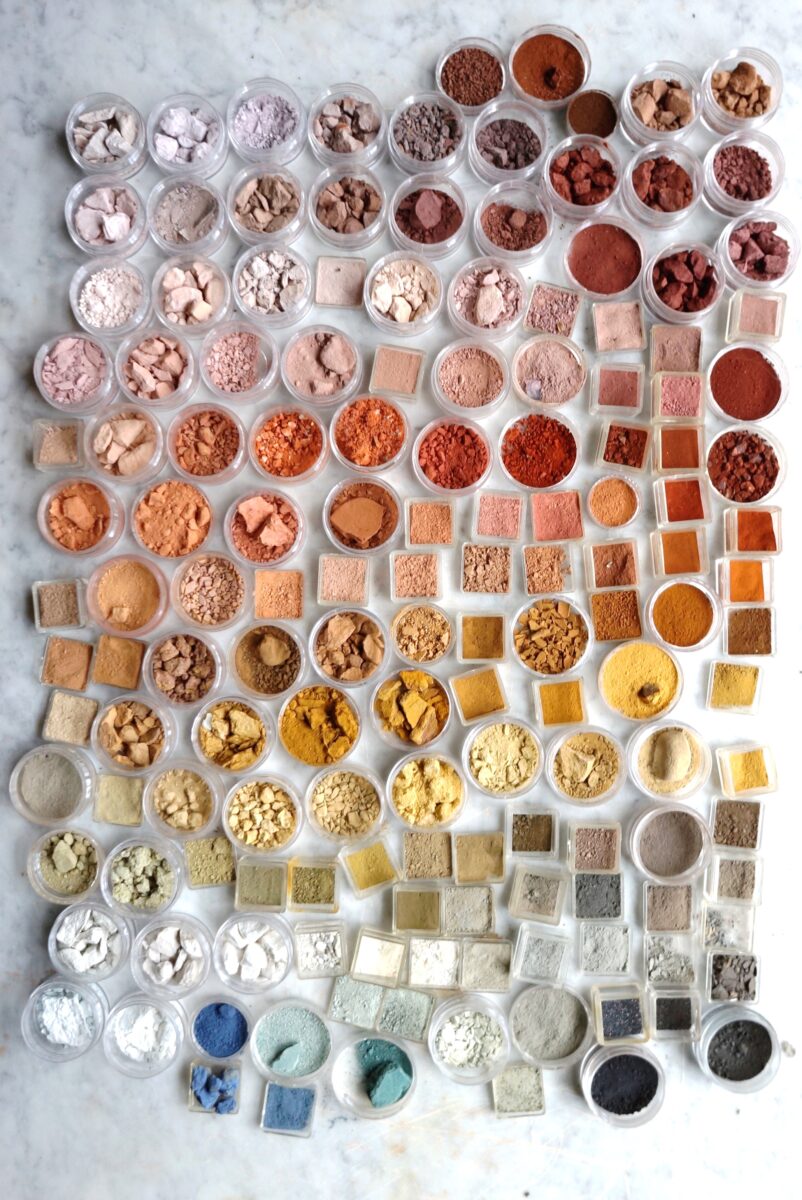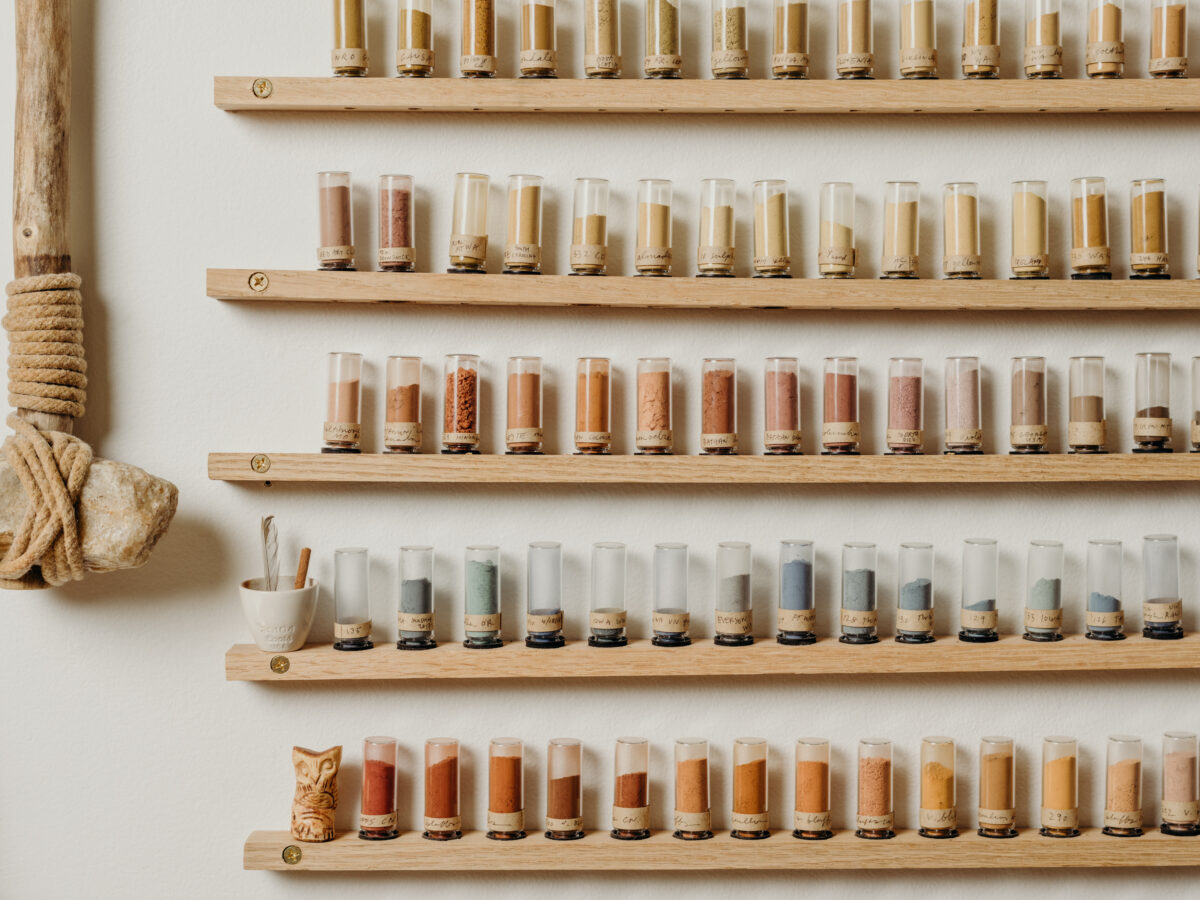 Iron seeds the imagination.
— Nor Hall, Irons in the Fire
Ochre Sanctuary is an evolving place that serves to celebrate and protect ochre, ie. iron-based powdered earths, humankind's oldest natural pigment. Our counsel of ochres includes hundreds of rocks and dusts, across the color spectrum, gathered and offered by citizens around Earth, including spiritual and cultural ochres such as kōkōwai from Aotearoa (New Zealand) and meaningful planetary ochres like GOE (Great Oxidation Event ) 2 billion+ years old goethite or wastewater vivianite from Taiwanese industrial plants.
Unlike museum collections or archives, the Ochre Sanctuary is a metamorphic earthwork growing in real time and everyday life, and will eventually transform into a full spectral columbarium temple. Currently based in a tiny rural cabin in far north Cascade foothills of Nooksack territory, Washington, USA.
MATERIAL FOCUS
⦔ Ochres from common, endangered, exhausted, sacred and/or urban places, including "banned" countries and controversial regions.
⦔ Powdered earths of iron-laden minerals, such as hematite, goethite, limonite, biogenic iron, magnetite, maghemite, siderite, vivianite, flos ferri, superparamagnetic iron oxide nanoparticles and others.
⦔ Iron-based soils from colonial-industrial extraction and steelworks, Superfund sites, and toxic land.
⦔ Ochres made or used by nonhumans, including microbes, elephants and vultures.
RESEARCH FOCUS
⦕ Communication with ochres, learning their behavior, capacities, being-ness, language, needs and concerns.
⦕ Support/celebrate Indigenous ochre and pigment-making practices, knowledge, renewal, land return and leadership, and ochre-place words spoken in local, native languages.
⦕ Critical study and revisioning of Euro-American iron-ochre land relationships (with an emphasis on the critical Iron Age origins through to today).
⦕ Study of female-led ritual art techniques (that utilize iron earths) from ancestral Northern European, Scandinavian and pre-Abrahamic Iron Age mythologies, including in old folk magic, runic and cuneiform ritual formulas, geomancy, funerary and skeletal ceremony and burial textiles.
Want to know more about ochre and earth pigments? See resources page, request a talk or workshop or get a copy of Book of Earth: A Guide to Ochre, Pigment and Raw Color.
Support OUR WORK
Ochre Sanctuary is an independent woman-led and community-supported arts project, sustained through generous exchange, in honor of Earth's creative power. We rely solely on planetary friends and citizens to support our work. We'd love for you to participate or offer your skills! Here's ways you can help:
1. Support a pigment. $26 helps with the labor and supplies to process one pigment. You will receive an email/note of gratitude!
2. Exchange rocks and pigments. Get in touch by email or instagram (@heidilynnheidilynn) to discuss, offer or request mineral pigments/colors from your bioregion or ancestral territory.
3. Become part of our earthwork team. We love connecting with arts patrons, skilled natural builders and architects, geomancers, earth keepers and land protectors who seek to share skills and support this project. Send a note to heidi@earlyfutures.com. ⩄⩃⩀
Contributors & Collaborators
Thank you for the generous support to former contributors, and to those who helped and wished to remain anonymous (thus not listed here)! ⤳ Melonie Ancheta of Native Paint Revealed and Pigments Revealed International, Scott Sutton, Crystalynn Tarr, New Riverside Ochre Co, Hormuz Powders, Promindsa, Micronox Pigments, Colibri Pigments, Jason Logan, Toronto Ink Company, Ricky Priambodo, Leon Korving, Mark van Loosdrecht & Philip Wilfert at Wetsus, Dorieke Schreurs, Morgan Williams, Applied Soils, Alexis Joseph with Case for Making, Devon Deimler with Opus Archives at Pacifica Graduate Institute, Dr. Steven Goodman, Symeon Van Donkelaar, Attila Gazo with Master Pigments, Andrew Zipkin, Phil Sibrell, USGS, Tim Runde, Des Moines WWTP, Book/Shop, Earth Pigments Distributors, Kremer Pigment, George and Tatiana of Natural Pigments, Dr. Claire E Gustafson, Gregg and Jody Gustafson, NW Rockhounds, Kitt Repass, Sintija Strode, Lydia and Kurt Scherer with Stonehouse Artifacts, Elin Glærum Haugland, Zeide Furtado, Anja Slapničar, Slovenian Ceramics, Catalina Morales Christensen, Stoneworks Mill, Hana Louise Shahnavaz, Amanda Brazier, Adam D. Haack, Amy Fujimoto, Madisen Hilligoss, Sarah Hudson, Caroline James, Angela Muller, Stella Maria Baer, Karen Eisenstadt, Patricia Belyea with Okan Arts, Blossom Mertz of Wildland Press, Madison Woods of Wild Ozark, Buck McAdoo, Sky and Ben Peck, Kuros Zahedi, Margaret Griffin, Cyrus Kellick, Sibella Court with The Society Inc., Elissa Callen, Stephanie Cosby, Kat Gosiengfiao with PintaPH, Alyssa Dennis, Helen Correll, Julie Kim, Dr. Tammy Hodgskiss, Tilke Elkins with Wild Pigment Project, Karla Sofía Claudio Betancourt, Thomas Little, Caroline Ross, Elizabeth Ahlem Clark, Sandy Zarszycka, Wolfgang Schweizer, Elaine Su-Hui with Inner Fields NY, Agulis Pigments, Leah Koransky, Kimberly Boustead, Melissa Dickenson, Lizz Aston, Mona Lewis, Alan Salazar, Julia Norton, April Luokkala, Sabine Pinon with In Bed with Mona Lisa, Evelyn Billo + Robert K. Mark with Rupestrian CyberServices, Rebecca Coffin Anderson, Linea Sundstrom, Jodi Gear, Mariana LaFrance with Chemistry and Craft, Kathy Hattori with Botanical Colors, Corwin Fergus and several others. List last updated winter 2021.