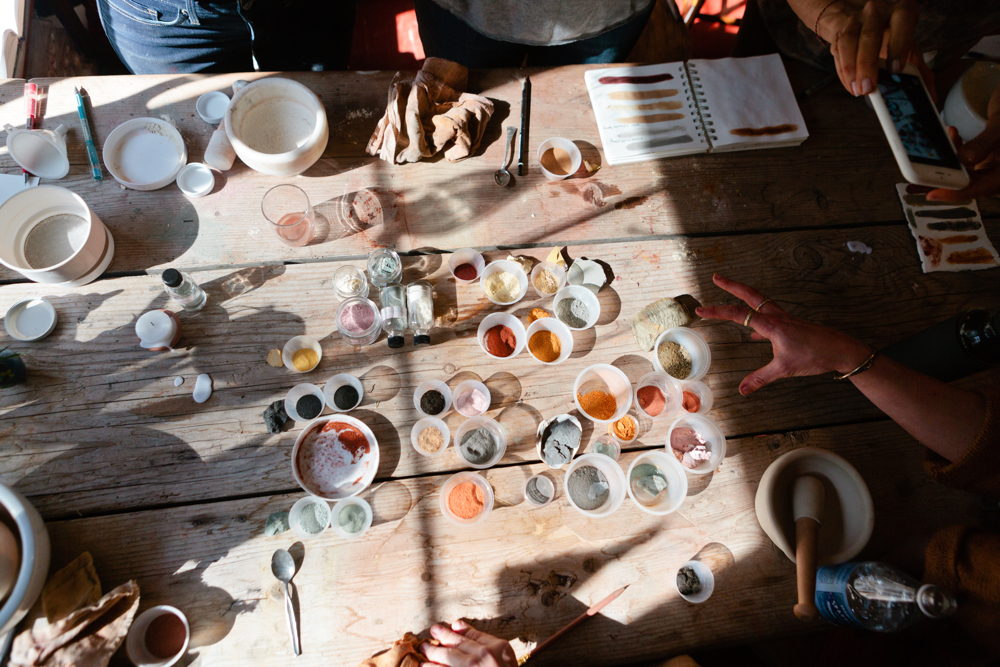 Recent Talks
Ochre's Sanctuary: Undoing the Iron Age :  A talk for the inaugural Pigments Revealed Symposium 2021. WATCH ONLINE.
Ochre Across Deep Time: A conversation between fellow ochre researchers Elizabeth Velliky, Magnus Haaland, Tammy Hodgkiss, Larissa Mendoza Staffron, Ann Gollifer and Heidi Gustafson. Part of the Pigments Revealed Symposium. WATCH ONLINE.
Ochre Sanctuary & Archive Visit, hosted by Botanical Colors Feedback Friday. WATCH ONLINE.
Workshops for 2022
No upcoming group workshops. Current ochre studio space is too intimate to accommodate Covid-19 protocols safely. Please check back!
Private Workshops + Mentoring
Heidi teaches a select number of private workshops, mentoring for individuals, and select group or team work, each season in the US and abroad. Email ideas/visions/goals to Heidi to start a conversation: heidi@earlyfutures.com.
Select Past Workshops + Talks
Revealing Earth Pigments: A Masterclass
Gathering Ochre
Working with Earth Pigments
Earth Pigment Foraging
Coastal Pigment Foraging
Land Pigments Intensive
Ochre Practice
Integrating Natural Pigments
Material Color and the Built Environment
Making Earth Paints (with Children)
Join Newsletter or follow on IG @heidilynnheidilynn for most up-to-date info.