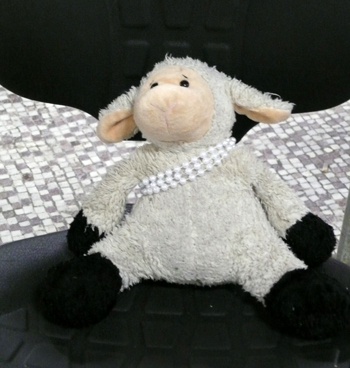 Non-human companions are important to children and humans. You almost always see a child (also teenagers and adults too) with a non-human companion: a worn out blanket, a stuffed animal, a funny piece of cloth, a baby doll etc. Stuffies are seen as a comfort item in popular culture and a 'transitional object' in psychological research.
These base concepts as taken up by adults and researchers often neglects the actual embodied being of the companions. These actual entities are living beings, sculptural time-based artworks, and important to imagination research and cultural production more generally. 
The topic of non-humans and non-human relationship comes up most frequently in regards to cyborgs and not transitional objects (Donna Haraway is an excellent resource in this regard). Or in object-oriented philosophy, and those following non-anthropocentric ways of knowing. Other technologically oriented non-humans like computers, robots and medical assistance machines also share the spotlight with cyborgs as things of importance to understanding modes of being. In particular, there is a lot of sweet talk regarding our human/non-human relationship with the ever growing population of non-human entities, internet of things….. "Will robots take over the world?" "Will computer knowledge become more than us?" Many educators working with children utilize fear or logic as an excuse to simply integrate technology into the classroom and to teach technology control relations.
In short, either through modern media technology, or stuffed animals, children will learn how to cultivate relationships with non-humans. Our work is to find out how to create healthy and transformative relationships that meet the co-constructed value of non-human companions. We find that a young child's deeply intimate relationship with their own magical non-human companion is a great resource for cultivating 'non-human' relationships that extend to technologies, cultures and objects. Researching this resource also provides us better understanding of how emotional relationships with non-humans, objects and entities constructed of other organisms may mutually benefit all these beings together.
There are multiple ways to integrate non-human relations into our everyday practice as collaborators with children. I will outline some practices I've used with children in a classroom setting.
How to introduce Non-Human relationships in a group setting:
Purpose: To help children continue to build tools to advocate and describe their relation to their non-human companions, both personal and otherwise.
Activities:
– Allow non-human companions to participate in discussions and activities through their human companion.
– Have the children find non-humans and describe/draw how they are helpful, how they befriend them, etc.
– Discuss non-human importance and introduce the word "non-human" to describe the various entities throughout your room/space.
– Have children describe what their non-human companion does with them. Write/draw/tell stories/make plays or dramatize/etc.
– Allow children (and yourself) have their non-humans lead the class discussions (with the child's help).
– Introduce industrial process and deconstruct non-humans.
– Create your own non-human.
These are just a few starting point activities that can be detailed out to facilitate further study, either with help from ideas of the children or by evaluating and using your own personal relation to non-humans.